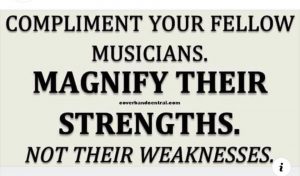 Geno Sirokman's Joke of the Day: I needed a password eight characters long, so I picked Snow White and the Seven Dwarves.[Carl Holtz passes along that Geno is doing better but still cannot have visitors due to the virus.] .
COMBO is about the LOVE of Music. Our mission is to assist musicians with the ins & outs of the music industry. We offer guidance and advice to help musicians advance their careers whether it been in writing, performing, teaching, or recording and sound engineering! Our articles represent some phase of the music business that could effect musicians – all musicians – everywhere. Our motto: Elevate Your Musical State!
.
Miss a meeting you wanted to get to? Try Colorado Music Biz's general YouTube channel:
https://www.youtube.com/channel/UCZWXnO5WKAH5ORlMLunli3A
Get the full stories on COMBO's website under the heading "Talent Needed":
● Mile High Blues Society Has Made Limited Funds Available to Help Our Local Musicians
● Golden Music: We Will Bring Instruments To Your Home To Try Out!
● The Colorado Music Relief Fund is Accepting Applications thru September 30th
● Sonic Spotlight Seeks Northern Colorado Musicians for Project
● Looking for a Job? Head of US Music Programming – Amazon Music
● The Late Show with Stephen Colbert Looking for a Music Producer
● Durango Songwriters Expo: A Virtual Song Submission Opportunity…
.
Check out COMBO's Calendar for Upcoming Events:
https://www.coloradomusic.org/colorado-music-business-organization-combo/calendar/
.
Events – September 2020
Fr-Sa – 4th & 5th – FoCoMX 12 – GOING TO ZOOM – See "Events" for details
Fr-Su – 4th – 6th – Herman's Hideaway Labor Day Weekend BBQ Bash with LIVE MUSIC –
see website – http://www.hermanshideaway.com/
Sa, 12th – Memorial Service for Robert L. Jones, founder of the Colorado Springs chapter of the NSAI, will be held at 3:00 p.m. at Swan-Law Funeral Directors, 501 N. Cascade Ave., Colorado Springs, CO. | http://www.dignitymemorial.com
.
Mo, 28th – COMBO General Meeting – 7:00 p.m. – More details TBA
.
Events – October 2020
Sa, 10th – Innervision Fundraiser & CD release at Mercury Café – 7:00 p.m.
Get your tickets at http://www.innervisionfm.com | 75% of proceeds go to Innervision, working with disabled musical artists to help with the business of music!
.
Th, 16th – Gaia Rising Holding a "Get The Vote Out" Event at The Mercury Café, 6-8:00 p.m.
.
BELL RINGERS: Previous article ringing a bell? Look for it on COMBO's Website!
● Warning Signs of Suicide 1-800-273-TALK
● How to Take Care of Your Mental Health During a Pandemic
● COMBO's YouTube Channel Features Videos From Our Meetings and Friends
● Updates to the COMBO Resource Pages – List Your Business – Free!
● The Year the Music Might Die: British Clubs Face Closure – Sound Familiar?
● Denver's historic Esquire Theatre up for sale after months of not paying rent
● Help Us Save the Blue Knights
● And in the End: The Beatles Break Up
● Quiet Riot Drummer Frankie Banali Dies After Battle with Stage 4 Pancreatic Cancer
● Jack Sherman, an Early Guitarist with the Red Hot Chili Peppers, Dies at 64
● Metallica Member Lars Ulrich Discusses Concert 'experiment'
● Motley Crue Tribute Band Rocker Blames 'Karma' for COVID Case at Sturgis Saloon
● Arvada West HS Choir Director Chris Maunu Reports How He Got the Choir Together
● At Least 13 People Die in Stampede, as Police Raid Nightclub Breaking Coronavirus Restrictions
● Let Them Roar Writes a Song for Elijah McClain
● Looking for a Job? Head of US Music Programming – Amazon Music
● Chinese Metal Bands Turn Up the Volume as Live Venues Reopen
● Kanye West Sued by E-Commerce Company for Allegedly Stealing Tech
● Opportunities from Durango Songwriters Expo!
● Sotheby's Changes Beat with First Hip-hop Auction
● UK Nightclubs Propose Bouncer Patrols and Face Masks to Reopen
● Masked Singer Australia Production Suspended After Seven Crew Test Positive for Covid-19
● Statue of Lauded Rocker Chris Cornell Vandalized in Seattle
● Polis Announces Last Call Pushed to 11:00 p.m.
● Taylor Swift's Cash Gift Helps Student Take Up Degree
● Performers Could Sing or Play Softly to Reduce Covid Risk, Study Shows
● A Year After Elijah McClain's Encounter with Aurora Police, Artists Around the World are Telling His Story
● Front Range/Colorado Springs NSAI Chapter Founder Rob Jones Passes
● New York State Bans All Ticketed Shows At Licensed Venues Due To Coronavirus
● "Proof In Music" Video Series Features Women Engineers and Producers; Colorado's Anna Frick Featured This Month
● The Colorado Music Relief Fund is Accepting Applications
.