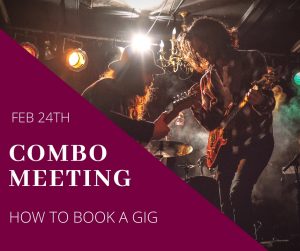 Guest speaker Tony Mason, Talent Buyer & Booking Agent, and COMBO Board Member David Barber, author of "Gigging: Everything You Need To Know Except How To Play Your Axe," http://www.giggingbook.com will discuss the most effective ways to approach venues and talent buyers when looking to book your band.
Tony and David will walk through the materials you need to approach a venue, how to submit gig inquiries, follow-up etiquette, and what to expect when you get the gig!
Please plan to join us at The Irish Snug's Dublin Room (downstairs) by 7:00 p.m. Meeting ends promptly at 9:00!
Come early and enjoy a tasty meal from the Snug's menu. They also have a selection of local beers as well. There is lots of free parking near-by (meters are free after 6:00 p.m., there is a parking lot on the north side of the building, and you can park in the Post Office parking lot a half block north on Marion).
Since the Snug is a restaurant, the under 21s can join us so bring the younger people in your band. They really need to learn about the business of music before they get scammed somehow!
What: COMBO's Next General Meeting – "Gigging: Everything You Need to Know"
When: Monday, February 24, 2020
Where: Irish Snug's Dublin Room, 1201 East Colfax, Suite 100, Denver
Time: 7:00 p.m.
Cost: Absolutely FREE!!!
Age: All ages!
The Irish Snug is handicapped accessible and has a single person elevator that will accommodate a wheelchair. Ask a staff person or let a COMBO member know if you need assistance. E-mail us at info@coloradomusic.org with your request.
https://www.facebook.com/tony.mason.90
# # # # #
Mark these on your calendar now!
Monday, February 24th – General Meeting at 7:00 p.m. – How to Book Your Band
Monday, March 23rd – General Meeting at 7:00 p.m. – Proper Venue Etiquette
Monday, April 27th – General Meeting at 7:00 p.m. – Want Radio Airplay?