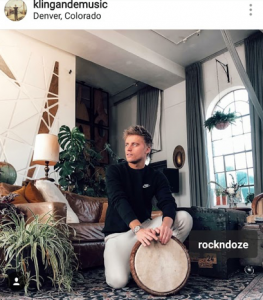 COMBO will be presenting Colin Bultinck with Rock 'n Doze, a home sharing platform for touring musicians, bands and music fans.
The meeting is free, open to the public and to all ages. It will be held from 6:30 until 8:30 p.m. in the Irish Snug's Dublin Room downstairs. Come early and order dinner from The Snug's awesome menu! Now is a good chance to network with other musicians and to get information that will be valuable to you in the future!
What: COMBO's Next General Meeting May 20th – "Help With Touring or Out-of-Town Gigs"
When: Monday, May 20, 2019
Where: Irish Snug, 1201 East Colfax, Suite #100, Denver, CO | Telephone: 303-839-1394
Time: 6:30 until 8:30 p.m.
Cost: Free!
Age: All ages! (Remember – The Irish Snug is a RESTAURANT! Come early and have dinner. Bring the teenagers… or the guys in the band who are under the age of 21!)
Mark these on your calendar now!
Saturday, May 18th – Stop by COMBO's booth at the Five Points Jazz Festival
Saturday, June 29th – Guitar & Luthier Show, Lutheran High School, Parker, CO – 10:00 a.m.
# # # # #
Where's your gig?
Home sharing platform for touring musicians, bands and music fans
3 Bedrooms – 6 Beds – 2.5 Baths -Sleeps 6
(2 queens, 4 queen bunks)
Touring in Colorado?
Stay at our private residence in the heart of Denver. Our fully furnished home is an ideal stop for touring musicians and bands working in the state of Colorado.
3 Bedrooms – Luxury Furniture – Sleeps 6+
Our home is fully outfitted to accommodate Guests and Bands of all sizes. Our bedrooms feature Queen beds, full-size bunk beds, and private security locks on each room for comfortable and secure stays by artists and their colleagues.
Full Kitchen – Laundry – High Speed Internet
All the amenities to suit the needs of your stay. Either staying for a week or just in for the night, you and your band can feel comfortable and productive while you weather the long hard road.
Parking – Room for A Van – Locked Storage
We have room for all your vehicles! We have a gated driveway with room for any common touring van including trailers as well as additional private parking spaces for visiting guests. In addition, we have locked storage facilities for storing equipment & supplies.
Living Amenities:
● Parking for Van+Trailer
● 3 bedrooms – 6 beds
● 2 & 1/2 bathrooms
● Plenty of space for Air Mattresses
● Covered Garage
● Locked Storage
● Laundry – Washer/Dryer
● Digital Home Security System