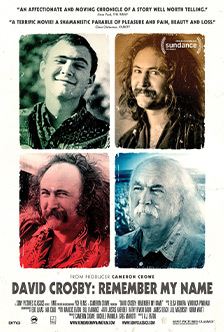 EVENTS: COMBO's Next General Meeting? Pop-Up Movie Night With President Barb Dye!
While COMBO normally does not run general meetings during the summer months, this year has seen so many wonderful "music" movies hit the theaters that the board has decided we should go see one of them as a group!
This idea is a great one for networking with our fellow musicians. AND we can take advantage of a group discount. At this point in time, we cannot give you a definite date, time, and place – mainly because of the constantly changing schedules of the theaters. So we're going to call it a "pop-up" movie night because we probably will only have a few days advance notice.
But we're looking at Friday, August 9th at the Mayan Theater and the movie/documentary "David Crosby: Remember My Name."
If you are interested in attending, please send a note to Barb at President@coloradomusic.org.
Here's a trailer for the movie:
https://www.landmarktheatres.com/denver/mayan-theatre#upcoming
https://www.landmarktheatres.com/denver/mayan-theatre/film-info/david-crosby-remember-my-name
What: Pop-Up Movie Night With COMBO's President Barb Dye
When: Friday, August 9th
Where: Mayan Theater, 110 [North] Broadway, Denver
Time: 7:00 p.m.
Cost: Approximately $15 but we may get a group rate making it lower
ALL AGES!
Lots of parking available. You can park in the Walgreen's lot just south of 2nd Avenue, between Broadway & Lincoln.
For those of you 'down south': I-25 North to the Lincoln Street exit. North to just before 2nd Avenue (streets run in numerical order), and pull into the Walgreen's parking lot. Good signage there. Look for it. Mayan is south of the Walgreen's store.
For those of you 'up north': I-25 south to 6th Avenue East to Broadway. Right turn/south on Broadway to 2nd Avenue & the Walgreen's store which will be to your left. Parking lot next to it. Please park in the back parking lot.