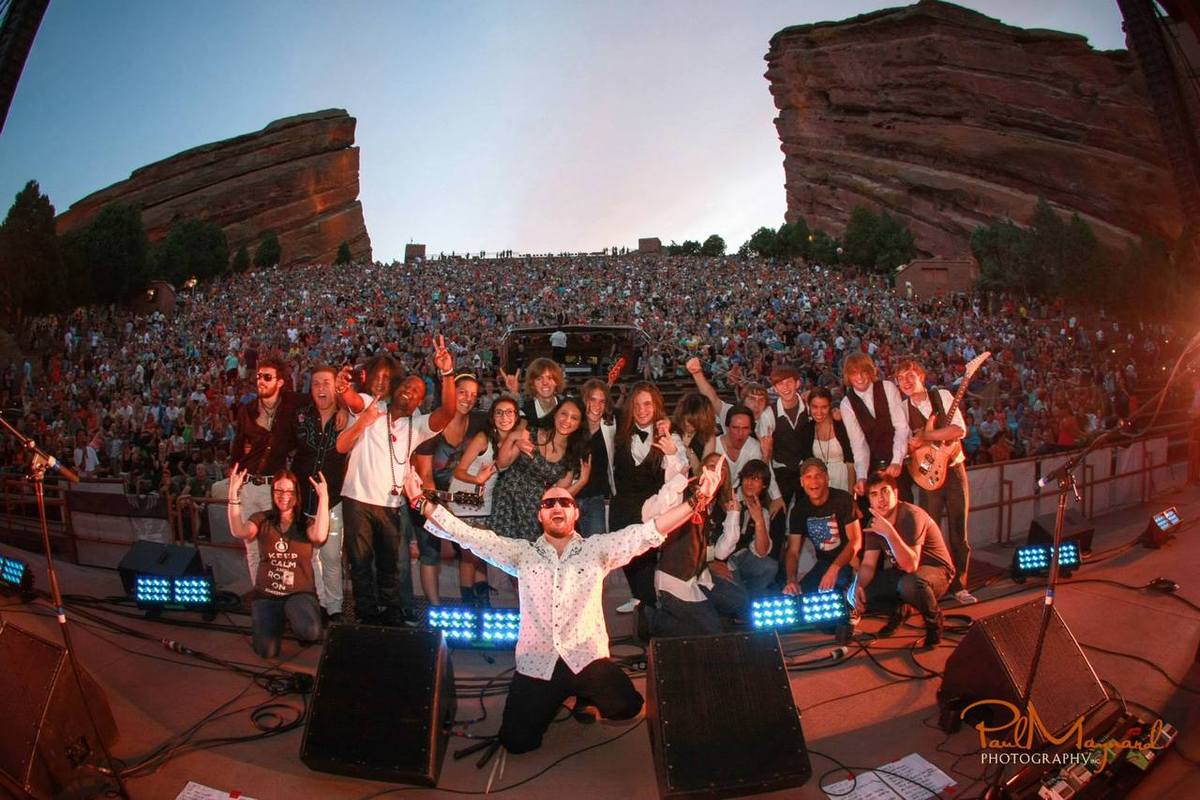 EVENTS: Denver's School of Rock House Band to Play Red Rocks' Film on the Rocks
Join School of Rock Denver's House Band as we take the stage at Red Rocks on Monday, August 5th for Film on the Rocks presents: The Mighty Ducks! The show begins at 6:45P with performances by each of the School of Rock Colorado House Bands, followed by a screening of the film. Tickets are still available- be sure to get yours before they sell out… see you at Red Rocks on August 5th!
Our Summer Season Performance Program tickets are now available- be sure to come out and support our students who have been working hard all summer to get ready to perform onstage! Tickets to all shows are available in advance at School of Rock Denver for $10 or at the door on the the day of the show for $12 (current SOR Denver students and kids 6 and under are free)! And don't forget our school-wide Best of Season show on August 25th, featuring selections from all of our Performance Program shows as well as our Little Wing, Rookies and Rock 101 classes!
For all who would like to join us Monday, August 5th at Red Rocks, please use the link below for tickets!
https://www.axs.com/events/373653/the-mighty-ducks-tickets?utm_source=Website&utm_medium=Programs&utm_campaign=Programs_ducks
# # # # #
School of Rock Denver presents: A Tribute to Jimi Hendrix
Saturday, August 17th
1 PM (Doors at 12:30 PM)
3 Kings Tavern
60 S Broadway Denver 80209
School of Rock Denver presents: Monsters of Mock – featuring the music of "Weird Al" Yankovic, Spinal Tap, Tenacious D and More!
Saturday, August 24th
12 Noon (Doors at 11:30 AM)
Oriental Theater
4335 W 44th Ave Denver 80212
School of Rock Denver presents: American Soul- Retro and Neo
Saturday, August 24th
3 PM (Doors at 2:30 PM)
Oriental Theater
4335 W 44th Ave Denver 80212
School of Rock Denver presents: Summer 2019 Best of Season Show
Sunday, August 25th
1 PM (Doors at 12:30 PM)
Herman's Hideaway
1578 S Broadway Denver 80210
Jake Demarco All-Star
Congratulations to School of Rock Denver bassist Jake DeMarco, who was selected as a School of Rock All Star for the second year in a row, and is now on tour with All Star Team 4 and performing at such legendary venues as The Wire in Chicago and Lollapalooza! All Stars are selected from a very competitive audition process based on musicianship as well as leadership in their local school, and represent the top 1% of School of Rock students worldwide!
http://www.schoolofrock.com/denver