EVENTS: Film on the Rocks Announces 2019 Summer Schedule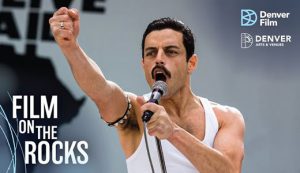 Denver Arts & Venues and Denver Film Society is excited to bring you the 20th season of Film on the Rocks. Each film at Red Rocks is preceded by a live concert and a comedian. Don't miss your chance to see "Bohemian Rhapsody" May 28, "Ghostbusters" June 3, "Mean Girls" June 17, "Top Gun" July 1, "The Mighty Ducks" Aug. 5 and "Free Solo" Aug. 19.
Doors open at 6:30 p.m., bands begin playing at 7 p.m., and movies start at dusk. $16 General Admission.
https://redrocks.co/film-on-the-rocks/
Flash Seats is an ID-based digital ticketing system and the preferred delivery method at Red Rocks. It allows you to enter Red Rocks with either a Flash Seats ID, your driver's license or the credit card used to purchase tickets. It also gives you the ability to safely transfer, buy, or sell tickets through the official Red Rocks Fan-to-Fan Marketplace. Visit our Flash Seats FAQ to learn more.
https://mail.google.com/mail/u/0/#inbox/WhctKJVRJCkFHgwHhNjKJrSxWpWZjwxVKRhBNnSkQbSBNhjrJgbCPftgqvnLjpKKLjVpgnv