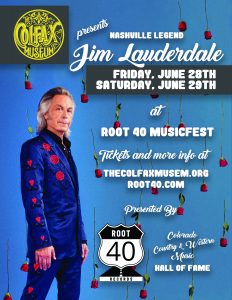 Clark Hagan, director of the Root 40 Music Fest (and COMBO Board Member), has announced that the Root 40 Music Fest being held at the Colfax Museum on Friday, June 28th and Saturday, June 29th, will feature award winning singer/ songwriter/musician Jim Lauderdale and his band as the headliner. The Fest will feature local Rockabilly, Folk, and Country-Rock bands with Jim finishing out the evening each night. The Fest will be a fund-raiser for the Colfax Museum which is curated by COMBO's own Jonny Barber, also known as The Velvet Elvis and the brains – and showman – behind the band SPIV!
What: Root 40 Music Fest (Play on words since Colfax is technically U.S. Route 40!)
When: Friday, June 28th and Saturday, June 29th
Where: Arts Complex – home of the Colfax Museum, 6851 West Colfax, Lakewood, CO
(about 1 block west of Casa Bonita – west side of Winchell's Donut Shop)
Time: 5:00 p.m. until 10:00 p.m. each night
Cost: $50 per person each night (donation to the Colfax Museum, a 501(c)(3) organization)
Ages: All ages welcome
About Jim Lauderdale:
James Russell Lauderdale (born April 11, 1957) is an American country, bluegrass, and Roots singer-songwriter. Since 1986, he has released 31 studio albums, including collaborations with artists such as Dr. Ralph Stanley, Buddy Miller, and Donna the Buffalo. A "songwriter's songwriter," his songs have been recorded by dozens of artists, notably George Strait, Gary Allan, Elvis Costello, Blake Shelton, the Dixie Chicks, Vince Gill, and Patty Loveless. Most recently, Lauderdale was honored Sept. 21, 2016, in Nashville at the Americana Honors and Awards show with the WagonMaster Lifetime Achievement Award.
After graduating from college, Lauderdale lived in Nashville for five months in the summer of 1979 while he tried to get a recording or publishing deal. He hung out a lot with Roland White, an accomplished mandolin player, with whom he cut a record. But things never took off, so he decided to move to New York, where he played in Floyd Domino's band and performed as a solo artist. In 1980 he met singer-songwriter Buddy Miller. He played in Miller's band in the active twang music scene that was evolving at the time.
> > > > > > > > >
Armed with a catalog of a few hundred songs he had written, Lauderdale was able to get a publishing deal with a small company called Blue Water Music (based in Houston, with a small office in Nashville). Living in Los Angeles he made a record with Anderson producing, but it was never released.
Lauderdale then got a publishing deal with Reprise and moved into the second floor of Buddy and Julie Miller's house until he got his own place in Nashville. In April 2018, Lauderdale signed to Yep Roc Records.
Collaborations
In 2007, he began a collaboration with Larry Campbell, the band Olabelle, and others in the American Beauty Project, a loose collection of musicians dedicated to reimagining in performance the Grateful Dead's two classic 1970 albums, Workingman's Dead and American Beauty.
In 2011, Lauderdale toured with Hot Tuna, an ensemble act that included Jorma Kaukonen, Jack Casady, Barry Mitterhof, G.E. Smith, and, for a time, Charlie Musselwhite. He has also toured with Elvis Costello, Rhonda Vincent, Mary Chapin Carpenter, and others.
Lauderdale has had a long-time, successful Music Row career writing songs for many mainstream country music singers under four separate major-label record contracts: CBS, Warner/Reprise, Atlantic, and RCA/BMG.
Songwriting
● Gary Allan: "Wake Up Screaming", "What's On My Mind", "We Touched the Sun"
● Mark Chesnutt: "Gonna Get a Life" (co-written with Frank Dycus) – hit #1 in 1995
● Elvis Costello: "I Lost You", "Poor Borrowed Dress
● The Dixie Chicks: "Hole in My Head" (co-written with Buddy Miller)
● Vince Gill: "Sparkle"
● Patty Loveless: "Halfway Down", "To Feel That Way at All", "You Don't Seem To Miss Me"
● George Strait:
"The King of Broken Hearts", "Where the Sidewalk Ends" from Pure Country Soundtrack (1992)
"I Wasn't Fooling Around", "Stay Out of My Arms" from Easy Come, Easy Go (1993)
"Nobody Has to Get Hurt", "What Am I Waiting For" from Lead On (1994)
"Do the Right Thing" from Blue Clear Sky (1996)
"We Really Shouldn't Be Doing This" from One Step at a Time (1998)
"One of You", "What Do You Say to That" from Always Never the Same (1999)
"Don't Make Me Come Over There (and Love You)" from George Strait (2000)
"Twang", "I Gotta Get to You" from Twang (2009)
● Lee Ann Womack: "The King of Broken Hearts"
● Blake Shelton: "What's On My Mind"