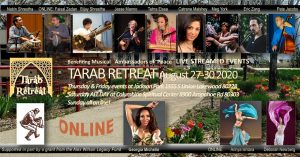 Well, it's been interesting, but Pete Jacobs and I are at it again. . .Although OUR EVENTS WILL BE STREAMED ON ZOOM AND FACEBOOK LIVE, you CAN attend ONE Park event in person this week. Please be prepared – no public restrooms…
Thursday, August 27th
Klezmerize Jewish brass band concert 6:00
Cook Park, 7100 Cherry Creek S Dr, Denver, CO 80224
Saturday, August 29th
We are streaming live all day from Columbine Spiritual Center for our New Normal Ensemble events.
10:00 Taksim Improvisation
12:00 Taksim Improvisation
2:00 New Normal Ensemble
4:00 Georgia Michelle
6:00 Sunset Sing Along
Please register!
Cook Park Concert Thursday, Columbine Spiritual Center Saturday
The Columbine events are closed to the public except for the 6:00 Patio SUNSET SINGALONG which will be outside with social distance. You must register to attend the Singalong so we can prepare our space.
PayPal Pete – a donation is the best way to let us know you would like to attend.
Sunday, August 30th will be ONLINE Home Studio Events
9:00 Deborah Newberg
10:00 Faisal Zedan
12:00 Tahra Eissa Kanun Q&A
2:00 Faisal Zedan
4:00 Faisal Zedan
5:00 Annya Ishtarra Taksim
6:00 KeyJamKey
Instead of charging a set tiered amount, we are adding Pete Jacobs' PayPal account Pjacobs@indra.com for you to donate ANY amount to our finances: we are still paying our artists their honorariums, rent, this Page's fees, and other equipment expenses.
Suggested amount is $15 per person per event you stream. However, if finances are a burden, your presence is enough. It's going to be the New Normal. Please join us!
Meg York and Pete Jacobs