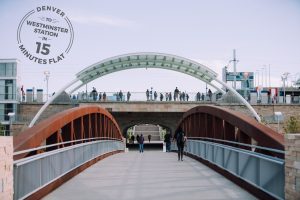 Westminster's Economic Development team invites you to discover the creative development opportunities and burgeoning music district at Westminster Station.
Come enjoy food and drinks, along with live outdoor music on the plaza provided by Colorado Sound Studio — featuring Hazel Miller and Something Underground, as well as musicians from Swallow Hill Music. Can't wait to see you there!
Learn more about the creative development opportunities that can occur when you combine a transit-oriented district with an opportunity zone — and a little music.
What: Westminster Station's TOD Development Mixer
When: Thursday, October 3, 2019
Where: Alto Community Room, 3045 West 71st Avenue, Westminster, CO
Time: 5:00 to 9:00 p.m.
Cost: FREE!
Please RSVP here: cjoy@cityofwestminster.us