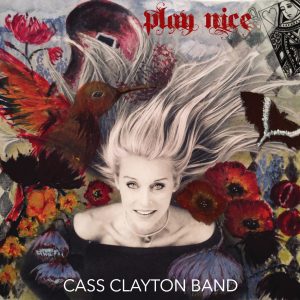 In 2019, Cass Clayton Band is already looking forward to an exciting year. She and producer Taylor Scott have been diligently working in the studio on another all-original album, titled Play Nice, coming out on July 19th. Cass was recently selected as a voting member of the Recording Academy, and also co-founded SHE-EO, a coalition designed to help women musicians in Colorado to solve business challenges together.
The Cass Clayton Band is known for its genre-bending fusion of rock, R&B, funk, blues and soul, which has a distinctly contemporary feel. Because they're not tightly bound to a single genre, they're known for tailoring their setlist to the audience and "letting it flow" as the show progresses.
In 2018, their self-titled record won ALBUM OF THE YEAR in the Colorado Blues Society Members' Choice Awards, and Cass has consistently been voted as one of the top slide guitar players and vocalists in the state. In February, 2019, she was featured on the cover of RECORDING Magazine with a 4-page article that featured innovative vocal recording techniques at Far & Away Studios. Most importantly, Cass Clayton Band believes in the power of music to bring people together for a higher purpose. Yep, we're talking about love!
UPDATE: We finished the PLAY NICE album! As promised, I'm sending our number-one hit single (haha, let's hope!) before it hits the radio airwaves. I'm so grateful for all of your support and encouragement, which allows us to make music we hope you love. New song "B Side" is about the tendency in a new relationship to only show the best side of ourselves, our A Side. At some point we have to decide whether it's worth the risk to reveal ourselves completely, and that's our B Side.
As I was writing this album there were so many surprises. Every song revealed itself in an unexpected and serendipitous way, which was a very different process compared to our 2018 record. PLAY NICE covers a lot of territory from the sacred to the sensual, and every song has its own message and mood. As with our 2018 album, also co-written and produced by Taylor Scott, it's a multi-genre record with broad influences of funk, rock, soul, blues and R&B.
Sooo….I'm on the edge of my seat waiting to hear what you think of the album as a whole. The release date is July 19.
Cass
# # # # #
COMBO Member and Speaker Steve Glotzer Updates His Bio for Us
Steve Glotzer has been performing his unique blend of folk, latin, jazz, acoustic and blues around the country at clubs, festivals and concerts for over forty years. Often referred to as "Ottmar Liebert, and Wes Montgomery meets Bruce Cockburn", Steve has opened shows for a wide range of artists such as Delbert McClinton, Blues Traveler, Dr. John, Larry Coryell, David Grisman, Son Seals, David Wilcox, Sonia Dada Roger McGuinn, John Cowen, Richard Elliott, and more.
Steve has released nine CDs; Life Imitates Art, Lately, Acoustic Christmas I & II, A Softer Side and Memory of One, Acoustic Season, Acoustic Album, and Acoustically Yours.
AND – Steve's music has been featured in movies and TV, on such shows as The Bachelor/ Bachelorette, Harry's Law, Diane Sawyer's documentary on Appalachia, "Children of the Mountain", Oprah, Desperate Housewives, Knight Rider, Wife Swap, Young and the Restless, King of the Hill, Martha Stewart Living, Kathy Griffen Show, One Life to Live, Passions, Monk, etc…and in movies
(A Guy Thing, Friends With Money, etc).
http://www.imdb.com/name/nm3080093/
# # # # #
COMBO would like to welcome back renewing members Joe Chinnici (Six Foot Joe), Chuck Hughes (Hillbilly Hellcats), Michelle Roderick, Cass Clayton Band, and Steve Glotzer. We also really appreciate William Keenan joining as a Supporter Member! Thank you all!
Also, time for a BIG THANK YOU to all those people who have joined COMBO and paid "their dues!" Dues money goes to pay expenses to keep COMBO up & running. We are manned by volunteers only so your dues pay for insurance, website and upkeep, post office, telephone services, and more. If there is anyway that we can help YOU out, please contact us at info@coloradomusic.org with your question(s) or comment(s).
Benefits include a free barcode for your new project, networking at general meetings, listing of your shows in the line calendar, and a free entry in the annual songwriting contest. Also you might be the winner of some really cool prizes – like a free entry into the Durango Songwriters Expo and dinner on us!