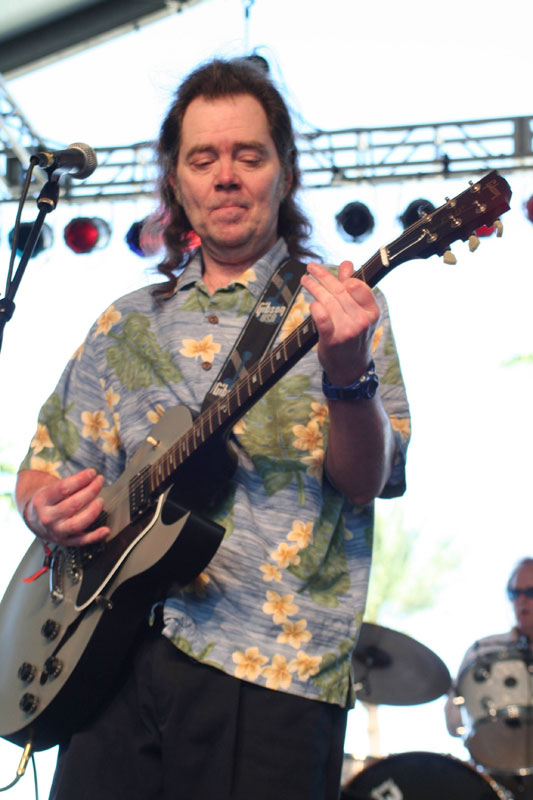 IN MEMORIAM: Roger Kynard "Roky" Erickson
Roger Kynard "Roky" Erickson (July 15, 1947 – May 31, 2019) was an American musician and singer-songwriter. He was a founding member of the 13th Floor Elevators and a pioneer of the psychedelic rock genre.
Born in Dallas, Texas, Erickson was interested in music from his youth, playing piano from age five and taking up guitar at 10. He attended school in Austin and dropped out of Travis High School in 1965, one month before graduating, rather than cut his hair to conform to the school dress code. His first notable group was the Spades, who scored a regional hit with Erickson's "We Sell Soul"; the song is included as an unlisted bonus track on Erickson's 1995 album All That May Do My Rhyme and was adapted as "Don't Fall Down" by the 13th Floor Elevators for their debut album. The Spades' original version of "You're Gonna Miss Me", later a hit for the 13th Floor Elevators, was featured on the compilation album The Best of Pebbles Volume 1.
> > > > > > > > >
In 1968, while performing at HemisFair, Erickson began speaking gibberish. He was soon diagnosed with paranoid schizophrenia and sent to a Houston psychiatric hospital, where he involuntarily received electroconvulsive therapy.
The Elevators were vocal proponents of marijuana and psychedelic drug use, and were subject to extra attention from law enforcement agencies. In 1969, Erickson was arrested for possession of a single marijuana joint in Austin. Facing a potential ten-year incarceration, Erickson pleaded not guilty by reason of insanity to avoid prison. He was first sent to the Austin State Hospital. After several escapes, he was sent to the Rusk State Hospital in Rusk, Texas, where he was subjected to more electroconvulsive therapy and Thorazine treatments, ultimately remaining in custody until 1972. During his time at Rusk, he continued writing songs and poetry. Family and friends managed to smuggle out some of these poems and, in 1972, self published the book Openers, intending to use the proceeds to hire a lawyer. (Various sources claim approximately 1,000 copies of Openers were printed; how many copies were actually sold remains unknown.) Six tracks from the 1999 Erickson collection Never Say Goodbye were also recorded during his time at Rusk.
> > > > > > > >
On April 20, 2010, Erickson released True Love Cast Out All Evil, his first album of new material in 14 years. Okkervil River serves as Erickson's backing band on the album.
In March 2012 Roky Toured New Zealand and Australia for the first time headlining Golden Plains Sixxx Festival in Meredeth as well as playing soldout side shows in Sydney and Melbourne.
On May 10, 2015, Roky performed with the reunited 13th Floor Elevators at Levitation (formerly Austin Psych Fest, the event was renamed "Levitation" after the song of the same title). The band consisted of original band members Erickson, Tommy Hall, John Ike Walton, and Ronnie Leatherman, joined by Roky's son Jegar Erickson, and guitarist Fred Mitchim.
Erickson died in Austin on May 31, 2019.
https://en.wikipedia.org/wiki/Roky_Erickson