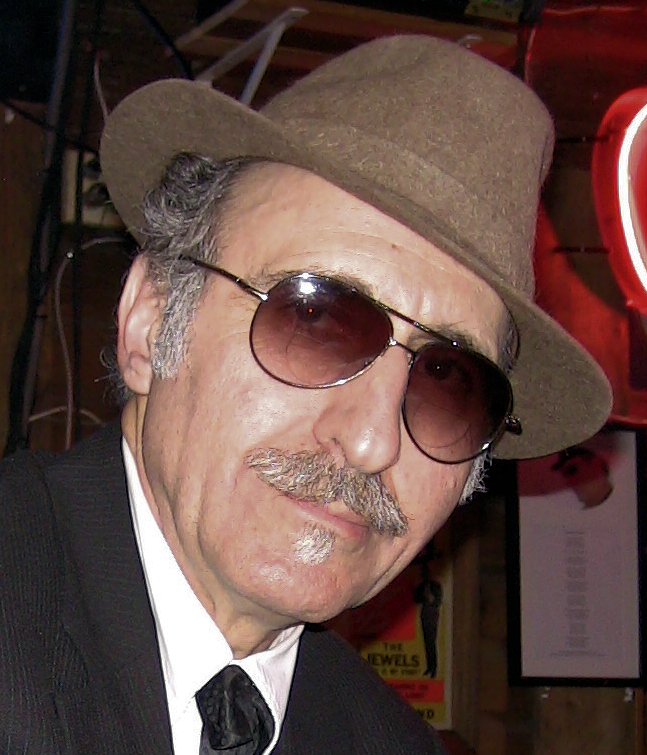 IN MEMORIAM: Singer/Guitarist Leon Redbone Dies at 69 // Other Notable Musicians' Deaths
Leon Redbone (born Dickran Gobalian, August 26, 1949 – May 30, 2019) was a Cyprus-born Canadian-American singer-songwriter, guitarist, and actor specializing in jazz, blues, and Tin Pan Alley classics. Recognized by his Panama hat, dark sunglasses, and black tie, Redbone was born in Cyprus of Armenian ancestry and first appeared on stage in Toronto, Canada, in the early 1970s. He also appeared on film and television in acting and voice-over roles.
In concert Redbone often employed comedy and demonstrated his skill in guitar playing. Recurrent gags involved the influence of alcohol and claiming to have written works originating well before he was born – Redbone favored material from the Tin Pan Alley era, circa 1890 to 1910. He sang the theme to the 1980s television series Mr. Belvedere and released eighteen albums.
Redbone was elusive about his origins, and never explained the origin of his stage name. According to a Toronto Star report in the 1980s, he was once known as Dickran Gobalian, and he came to Canada from Cyprus in the mid-1960s and changed his name via the Ontario Change of Name Act. Biographical research published in 2019 corroborated his birth name, and stated that his family was of Armenian origin. His parents lived in Jerusalem, but moved in 1948 to Nicosia, Cyprus, where Redbone was born. By 1961, the family had moved to London, England, and by 1965 to Toronto.
> > > > > > > > >
Redbone died on May 30, 2019, following complications from dementia. At the time of his death he was living in Bucks County, Pennsylvania, in hospice care. He is survived by his wife Beryl Handler, daughters Blake and Ashley, and three grandchildren.
A statement on Mr. Redbone's website noted his death with cheeky humor: "It is with heavy hearts we announce that early this morning, May 30th, 2019, Leon Redbone crossed the delta for that beautiful shore at the age of 127." His longtime publicist Jim Della Croce confirmed that his age was, in fact, 69.
https://en.wikipedia.org/wiki/Leon_Redbone
# # # #
By Jem Aswald | Singer-songwriter Leon Redbone, who specialized in old-school vaudeville and Tin Pan Alley-style music, died earlier today, his family confirmed. He was 69 — although, in characteristically whimsical fashion, the official statement announcing his death gave his age as 127.
Although Redbone's pop-defying predilection for seemingly antiquated musical styles of the '20s and '30s made him the unlikeliest of stars, he became one anyway, appearing several times as the musical guest on "Saturday Night Live" — including two spots in the inaugural 1975-76 season alone — and landing frequent appearances with Johnny Carson on "The Tonight Show." Later popular successes had him singing the themes for TV's "Mr. Beledevere" and "Harry and the Hendersons," along with recording a duet of "Baby, It's Cold Outside" with Zooey Deschanel for the soundtrack of "Elf," for which he also voiced the animated character of Leon the Snowman.
Redbone had officially retired in 2015, with a representative then citing unspecified health concerns as the reason for his being unable to continue performing or recording.
A post on Redbone's website confirming his death contained enough deadpan humor and whimsical fiction that it was almost certainly prepared in advance by the singer himself. "It is with heavy hearts we announce that early this morning, May 30th, 2019, Leon Redbone crossed the delta for that beautiful shore at the age of 127," it read. "He departed our world with his guitar, his trusty companion Rover, and a simple tip of his hat. He's interested to see what Blind Blake, Emmett, and Jelly Roll have been up to in his absence, and has plans for a rousing sing along number with Sári Barabás. An eternity of pouring through texts in the Library of Ashurbanipal will be a welcome repose, perhaps followed by a shot or two of whiskey with Lee Morse, and some long overdue discussions with his favorite Uncle, Suppiluliuma I of the Hittites. To his fans, friends, and loving family who have already been missing him so in this realm he says, 'Oh behave yourselves. Thank you…. and good evening everybody.'"
Redbone's improbable career saw the release of 16 full-length albums beginning with "On the Track," his 1975 debut on Warner Bros. He went on to put out albums on his own August imprint through Blue Thumb, Private Music and Rounder, with his final new release, 2014's "Flying By," issued through his August Records imprint (distributed by Rounder), as were all of his recordings dating back to the mid-1980s.
Jack White was a fan, as became clear with Third Man Records' 2016 re-release of Redbone's Warner Bros debut as well as "Long Way from Home," a new collection of recordings unearthed from the early '70s, before he was ever signed.
White was only the latest in a long line of celebrity fans, starting with Bob Dylan, who first turned Rolling Stone on to Redbone in 1974 when he told the magazine, "Leon interests me. I've heard he's anywhere from 25 to 60, I've been [a foot and a half from him] and I can't tell, but you gotta see him. He does old Jimmie Rodgers, then turns around and does a Robert Johnson."
Bonnie Raitt was another huge fan, saying, "He's probably the best combination of singer-guitarist I've ever heard."
https://www.msn.com/en-us/music/news/singer-leon-redbone-dies-at-69/ar-AAC9aqK?li=BBnbfcL
* * * * *
Other Notable Musicians' Deaths…
June 2019
4: Roger Covell, 88, Australian musicologist, critic and author; Mikey Dees, American rock musician (Fitz of Depression).
3: Ruma Guha Thakurta, 84, Indian actress and singer.
2: Piet Botha, 63, South African rock musician, pancreatic cancer; Lawrence Leathers, 37, American drummer (For One to Love, Dreams and Daggers), strangled.
1: MC Reaça, 25, Brazilian singer, suicide by hanging.
May 2019
31: Roky Erickson, 71, American singer-songwriter (The 13th Floor Elevators); Paddy Fahey, 102, Irish composer and fiddler; Ðelo Jusic, 80, Croatian composer and guitarist.
30: Leon Redbone, 69, Cypriot-American singer-songwriter and actor (Elf), complications from dementia.
29: Diego Jose Belmonte, 71, Argentinian chess player and violinist; Tony Glover*, 79, American blues harmonicist (Koerner, Ray & Glover); Jeff Walls**, American guitarist (Guadalcanal Diary), pulmonary venoocclusive disease.
* Tony "Little Sun" Glover (born Dave Glover; October 7, 1939 – May 29, 2019) was an American blues musician and music critic. He was a harmonica player and singer who was most notably associated with "Spider" John Koerner and Dave "Snaker" Ray in the early 1960s folk revival. Together, the three released albums under the name Koerner, Ray & Glover. Glover was also the author of diverse "harp" (blues harmonica) songbooks and a co-author, along with Ward Gaines and Scott Dirks, of an award-winning biography of Little Walter, Blues with a Feeling: The Little Walter Story.
https://en.wikipedia.org/wiki/Tony_Glover
**Guadalcanal Diary was an American alternative jangle pop group. They originated in Marietta, Georgia, a suburb of Atlanta, but they were often billed as being "from Athens, Georgia," in the early 1980s. The band formed in 1981 and disbanded in 1989. They reformed in 1997, but never recorded any new material. After going on hiatus in 2000, Guadalcanal Diary temporarily reunited for a second time in 2011 for Athfest, where they celebrated their 30th anniversary. https://en.wikipedia.org/wiki/Guadalcanal_Diary_(band)
28: Willie Ford, 68, American soul singer (The Dramatics); Ralph Murphy, 75, British-born Canadian country musician, pneumonia; John Gary Williams, 73, American R&B singer (The Mad Lads).
27: Gabriel Diniz, 28, Brazilian singer and composer, plane crash.
26: Rémi Gazel, 41, French video game composer (Rayman), cancer.
24: Jaroslav Erik Fric, 69, Czech poet, musician and publisher, cancer.
23: Anna Udvardy, 69, Hungarian film producer (Sing), Oscar winner (2017).
22: Khalid Hossain, 83, Bangladeshi Nazrul Geeti singer; François-René Tranchefort, 86, French musicologist.