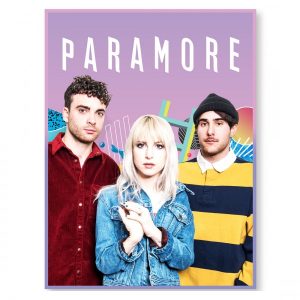 On the first Warped Tour, in 1995, the traveling punk-rock extravaganza was so low-budget that its founder, Kevin Lyman, had to buy supermarket hot dogs to feed the musicians. One day, the Sublime singer Bradley Nowell's Dalmatian urinated on the buns.
"That was my favorite moment," recalled Donita Sparks of L7, another top band on the bill that year. The other roving festivals of the time, from Lollapalooza to Lilith Fair, had an air of sophistication, but Warped was dirty, D.I.Y., and lacking air-conditioning and proper restrooms — and only three of the 21 headlining bands included women. When the tour sets off from Pomona, Calif., on Thursday for what's billed as its final full cross-country trek, only six of the 84 bands listed on the lineup posted on the Warped website have women members, or 7 percent, far lower than the 19 percent average on top festivals this year, according to a recent study by the online music magazine Pitchfork.
The Vans Warped Tour, now in its 24th year, has expanded its catering to include gourmet and vegan options. But its core mission remains essentially the same — raging, screaming, punk and metal bands and bouncier emo and pop-punk groups, from mainstays like All Time Low and Taking Back Sunday to promising younger acts on smaller stages, setting up shop at amphitheaters and in parking lots from San Diego to West Palm Beach, Fla. Warped has showcased women stars over the years, including No Doubt, Katy Perry, Paramore and the underground bands on the pink-and-black Shiragirl stage, but its gender imbalance has remained striking.
The New York Times spoke to 75 women and nonbinary musicians who have performed on the tour, many of whom echoed NPR Music's Ann Powers, who recently criticized Warped as a "wild boys' paradise." Some divulged #MeToo stories; others ripped bands known for making misogynistic remarks onstage. Most had kind things to say about Mr. Lyman, a former Lollapalooza stage manager who scouts Warped bands himself, praising him for hiring so many women in charge of production, catering and other departments. And some said they are intent on making a statement at this year's festival. Doll Skin, a quartet of women from Phoenix, is employing an all-female crew and working to support the other women performers. "We make a little alliance, almost," said the band's 21-year-old drummer, Meghan Herring. These are edited excerpts from the conversations.
How would you describe your Warped Tour experience?
NOVENA CARMEL, 36, OF WALLPAPER It's sort of like boot camp and a circus.
CHESKA ZAIDE, 20, OF A+ DROPOUTS Everything I didn't like about the tour, like the heavy lifting, the sun, just the tiredness of it all, is everything that I loved about it.
SYDNEY "SQUID" SILVER OF LUNACHICKS It's 100 degrees in the desert in the hot sun. We're wearing vinyl cheerleader outfits. You actually have to train for it or you'll pass out.
SIENNA DEGOVIA, 42, OF THE RANDIES Many, many times, I'd set up my sleeping bag in some disgusting restroom gym of a stadium.
MEG FRAMPTON, 33, OF MEG & DIA I did feel a pressure to drink like everybody else and party like the guys, whereas what I would've naturally wanted to do was have some tea and, I don't know, watch a chick flick and go to sleep.
> > > > > > > > >
How did you fight the sexism you faced onstage and off?
THEO KOGAN, 48, OF LUNACHICKS A huge portion of the Blink-182 guys' audience was teenage girls, and it was an all-ages show and they would say [expletive] like, "Throw us your bras!" I was going onstage and saying, "Hey, girls, don't do anything those guys tell you!"
DIA FRAMPTON, 30, OF MEG & DIA We'd give somebody a flier to come watch our band and somebody would say, "Oh, you guys gonna show us your breasts?" or something stupid. Meg and I would shrug that off: "It comes with the territory." You learn, especially now, it's not O.K. Back then, I was young, I tried to fit in, I didn't want to be a snotty little girl who makes people feel uncomfortable.
JEANNE WAWRZYNIAK, 39, OF ALL THAT REMAINS Every once in a while I got "Oh, marry me!" But I never got anyone trying to grope me or anyone saying anything super rude.
By Steve Knopper
Read the full article here:
https://www.nytimes.com/2018/06/21/arts/music/warped-tour-women.html
[Thank you to Alex Teitz,
http://www.femmusic.com
, for contributing this article.]