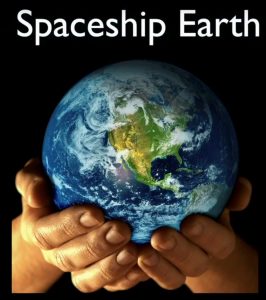 Laurie writes: I have a fun 60 minute multimedia environmental presentation Spaceship Earth: What Can I Do? that I've been sharing since 2012. Our beautiful earth is like a spaceship – we only have so much air, so much water. It is a term coined by Buckminster Fuller in 1952. Through the use of art, music and science it engages both sides of the brain having an even stronger impact.
Vision: A world where each person is mindful of every action!
Mission: Increasing environmental awareness, education, and literacy.
My highest aspiration is to inspire folks to be better stewards of our beautiful planet and ensure a healthy future for our children.
Due to COVID I now have two recorded versions that are on Youtube. I can present virtually (sliding scale) or folks can watch on Youtube (I can accept tax-deductible donations through my fiscal sponsor).
Now that this is on Youtube I can reach anyone on the planet and my new purpose/mission in life is to get the Zero Waste message out to as many folks as possible!
YOU CAN HELP ME DO THAT by sharing this information and links to your friends and colleagues, teachers and organizations, Girl Scouts and Boy Scouts, Rotaries, Libraries and Museums. Neighborhoods and HOA's.
Please use these links for more information:
(read story on Gratitude and see Constant Contact template): https://conta.cc/3nxRxU5
Spaceship Earth: What Can I Do?
● 4 minute demo: https://youtu.be/frUzZu1tQGA
● 60 minute geared towards adults: https://youtu.be/Byx1WMNCzEM
● 60 minute for kids (my favorite): https://youtu.be/louhuW1bpo4
Thanks for your time and Happy Holidays!
YOU ARE A PART OF THE SOLUTION!!!
Laurie D
Windchime Productions
http://www.LaurieDameron.com
WindchimeL@aoL.com
303-449-3529
https://www.facebook.com/WhatCanIDoSpaceshipEarth
.