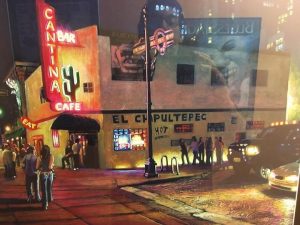 COMBO Board Member Alex Teitz sent a few articles that deal with the entertainment business in Colorado and elsewhere. We felt the information contained in these articles is important to musicians and hope that you will take the time to read them.
# # # # #
Tattered Cover Bookstore Sold to Colorado-Based Investors
Len Vlahos and Kristen Gilligan have sold the 49-year-old independent book store to the Colorado-based Bended Page LLC. Billed in a statement as "national bookselling and publishing experts," Bended Page is owned by Kwame Spearman and David Back.
"The Tattered Cover, and all it embodies for us as Denver natives — reading, learning, the independent spirit, buying local, and most importantly community and connection — are the ingredients that drew up to this endeavor," Spearman said in the statement." As we approach Tattered Cover's 50th anniversary, we are honored and excited to invest in this important community treasure and ensure it remains a piece of the Colorado experience for generations to come."
While local bookstores across the country shuttered in recent years, falling victim to lower prices offered by Amazon, Tattered Cover remained steadfast in its role as a locally owned shop known for drawing revered authors to Denver for book signings.
Over the summer, the bookstore drew criticism after it released a statement explaining why it had "been quiet" in the wake of protests over George Floyd's death in Minneapolis and subsequent rallies against racism and police brutality. It later issued an apology for the statement that read in part, "We are horrified at having violated your trust. We deserve your outrage and disappointment."
It continued: "There must be systemic change at the local, state, and national level. Tattered Cover will be part of this change, and we will hold ourselves accountable to our ever evolving community. Thank you for helping bring us to this place, and again, we are sorry. Len & Kristen."
This is a developing story and will be updated.
# # # # #
'Denver's outgrown us.' El Chapultepec's owners and friends explain the demise of another old school Denver landmark.
By Hart Van Denburg, Denverite | The neon signs were dark, the photos of historic jazz figures were off the walls, and the bar was being taken apart on Tuesday afternoon at El Chapultepec. The owners had gathered out front to tell supporters and reporters why the iconic Denver nightspot was closing.
Yes, the coronavirus pandemic played a role. One of the Pec's longtime familiar musicians, Freddy Rodriguez Sr., even died of COVID-19 earlier this year. But the family says the pandemic was really just the last nail in the Pec's coffin.
"There are so many things that led to this decision," co-owner Anna Diaz said.
The arrival of nearby Coors Field and the delivered-on promise of redevelopment in the neighborhood felt, in retrospect, like the beginning of the end.
"Jazz musicians and blues musicians, they shouldn't have to time their sets around baseball innings and when the crowds are going to get out and be wild. They should be able to play their music, and the crowd should just be there to enjoy them," Diaz said. "The employees and our musicians, our customers, we shouldn't have to be worried about our safety when it's time to leave.
"Denver's outgrown us."
El Chapultepec started as a Mexican restaurant and takes its name from the famous park in the center of Mexico City (translation: grasshopper hill). Jerry Krantz had worked at the Cantina and married into the Romano family, who owned the place. When the family was ready to move on in the 1960s, Krantz took over ownership and built it into a legendary and notably unpretentious jazz room.
"There was nothing around here," said pianist Freddy Rodriguez Jr., whose father first played sax at the Pec in 1980. "Things were completely different. Nothing around here. Just a few guys laying on the street, just the Pec and a couple of restaurants. They had mariachi music in here before my dad came along" and asked for a gig.
> > > > > > > > >
The family never owned the building, but because the structure has been deemed historic, the iconic Cantina sign won't be taken down. Instead, it will serve as another reminder of what used to make Denver Denver.
Read the whole article here:
https://denverite.com/2020/12/08/denvers-outgrown-us-el-chapultepecs-owners-and-friends-explain-the-demise-of-another-old-school-denver-landmark/
Also read this article with lots of photos:
https://www.9news.com/article/news/local/next/el-chapultepec-closing/73-5c8f588c-7d8f-42de-aa64-fa356400851d
# # # # #
El Chapultepec:
Jerry Roys on Facebook, 12/07/20: When I was a kid a lot of families in the barrio would go shopping for certain (ethnic) foods at Johnny's Market, located on Larimer St. Of course there were other goods that appealed to Chicanos, mainly because they were affordable. Anyway, while mom was shopping my pops would manage to get lost and go have a couple of cold ones at this little Cantina. I think I was maybe 8 or 9 the first time I ever went with him to the "Pec." Even as a kid I could feel the magic in that place as I would sit and drink my Coke. I always tried to follow him instead of going with mom. Losing El Chapultepec is a tough one. It is like losing a part of the city's soul and a bit of our history. Eighty-seven years is too soon to go. It should be designated a "Historical Landmark."
https://www.facebook.com/fansofsapeshifter
David Booker on Facebook, 12/08/20: Back in 2009, my bass playing friend, and former band member, Chris Harris, already a Pec regular, suggested I talk to Angela about hosting a Monday night blues Jam. We set it up pretty fast and the response was terrific .
Rain or shine we welcomed all kinds of folks to the bandstand, a simple sign up sheet was all it took to strut your stuff. Of course there were some oddball characters some of whom had to be ejected from the premises via Lloyd Raven our 'Keeper of the Castle'/ Bar manager, but for the most part my fondest memories are of the cool support provided by seasoned friends and players who showed up regularly to play. More importantly the younger crowd latched on to the music, and several players like Sam Amabile matured into top notch players, some of the horn guys too. It was so cool to see the musical improvement of so many younger folks over the years, I hope I had a hand in their development.
In 2012 we got The Best Blues Jam award from Westword and it sits in my office to this day ! The years came and went. In 2016 I had to have emergency open heart surgery. Scott Hackler "Shack" the legend himself took over while I was out of action, many people visited me in Hospital, and in about 3 weeks I was back playing and hosting.
One night shortly after I picked up Mondays again, Angela called me over to the bar and handed me a wad of cash, she said here's your wages, I stuttered, "but Shack covered for me and he's been paid right"? She said "No problem, we missed you, welcome back". Stuff like this you never forget and, in my 10 Years and 5 months of hosting at The Pec on Monday nights, all I can say is "Thank You all". I will miss the camaraderie, the music and everybody that walked through that door, especially the ones we lost along the way – R.I.P Kevin Daley – you will never be forgotten . .
https://www.facebook.com/david.booker.75436
# # # # #
Ohio Club Temporarily Closed After Hosting Indoor Trey Songz Concert On Saturday
By Ian Courtney, Celebrity Access | COLUMBUS, OH (CelebrityAccess) — An Ohio concert venue was cited over the weekend after hosting an indoor concert with more than 500 fans that appeared to include little to no social distancing or masks.
According to the Columbus Dispatch, nightclub Aftermath was cited by the Ohio Investigative Unit for improper conduct and disorderly activities in violation of its liquor permit during the concert on Saturday that featured recording artist Trey Songz.
Pictures and videos from the concert appear to show large groups of fans mingling inside of the concert venue without any apparent safety precautions to limit the spread of COVID-19.
"I honestly thought that it was from 2019, that there was no way an establishment would act like that, during a pandemic that threatens our entire community, with utter disregard for public health standards," Columbus City Attorney Zach Klein told the Columbus Dispatch.
Read the rest of the story here:
https://celebrityaccess.com/2020/12/08/ohio-club-temporarily-closed-after-hosting-indoor-trey-songz-concert-on-saturday/