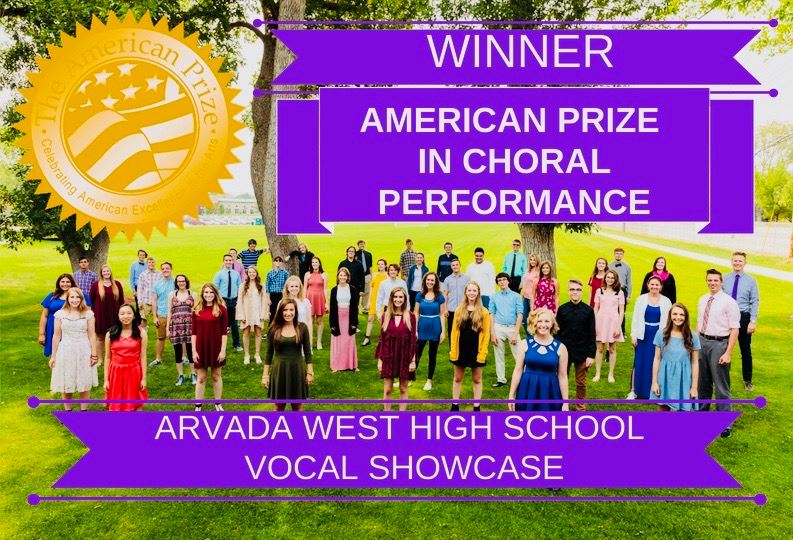 KUDOS: Arvada West HS's Vocal Showcase Wins American Prize in Choral Performance
Chris Maunu: I am so honored to learn Arvada West High School's Vocal Showcase has finished 2nd in the United States in the 2018-2019 American Prize in Choral Performance!!! The conductors and choirs on this list are those l admire so much and I am so humbled that our students are included and have earned this recognition. Go Wildcats!
The American Prize National Nonprofit Competitions in the Performing Arts, David (Volosin) Katz, chief judge, is honored to announce the winners, runners-up, honorable mentions and citation recipient of The American Prize in Choral Performance, 2018-19, in all divisions. Congratulations!
Complete listings of finalists and semi-finalists in The American Prize competitions may be found elsewhere on this blog. Please use the chronological tool in the right-hand column to find specific results.
Quick Notes: Although The American Prize does not usually provide written evaluations to semi-finalists, some semi-finalist composers will receive in their certificate packets short comments, suggestions or overall impressions made during the judging. We hope they will prove valuable. All finalists receive written evaluations from a member of The American Prize judging panel.
2nd Place (tie):
Arvada West HS Vocal Showcase
Chris Maunu
Arvada CO
Since Chris Maunu took over Arvada West choirs in 2006, the department has grown from 120 to over 340 students and has become one of the nation's premier choral programs. Arvada West's mixed chorus, Vocal Showcase, performed at the 2017 National ACDA Conference in Minneapolis and were winners of the Youth Division of the 2017-2018 American Prize in Choral Performance. Choirs from Arvada West have performed at eight Colorado CMEA conferences since 2009. The ensembles consistently receive superior ratings and 1st place finishes at festivals and contests. AWHS choirs have performed at Carnegie Hall, the Kennedy Center, Orchestra Hall in Chicago and Minneapolis, and High Mass at St. Peter's Basilica in Rome and St. Mark's Basilica in Venice. Mr. Maunu was 1 of 10 national finalists for the Music Educator Award at the 60th GRAMMY Awards this last January. Away from AWHS, he is co-founder/director of the new 16-voice professional choir, Anima Chamber Ensemble and serves as the High School Repertoire and Resources Chair for Colorado ACDA.
https://theamericanprize.blogspot.com/2019/08/winners-choruses-2018-19.html