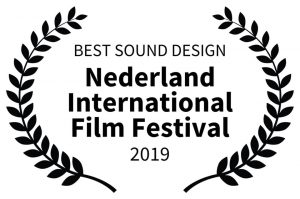 We were just informed that the judges for the Nederland International Film Festival awarded the music video I directed, Alone at Sunset, an award for Best Sound Design- what an honor!
Congratulations to Scott Andrew Martin and Robert Johnson and studio audio engineer Jay Newland and the band for top-notch work on this project!
The Band:
Robert Johnson – vox
Scott Martin – piano
Danny Meyer – sax
Miles Sloniker – bass
Alwyn Robinson – drums
Alone at Sunset is a film-noir music video shot and directed by Makinen featuring the singing and acting talents of international recording artist (and Colorado resident) Robert Johnson. Renowned Boulder pianist and composer Scott Martin wrote and produced the atmospheric jazz ballad "Alone at Sunset", and this film features the two of them recounting a tale of woe upon the stage of the famed Nocturne jazz club and follows Mr Johnson drifting through Denver's iconic RiNo district in a fog of remorse at the one great love to have slipped away.
Ben also had another video in the festival: Anthropocene (also an Official Selection of the EFPalooza Film Festival held in February) is a short film by Ben Makinen and set to an original electronica composition of his titled "Finding Home". Anthropocene is a "… stunning cinematic journey," across the state of Colorado and features breathtaking aerial photography over the bustling and vibrant city of Denver.
Editor's note: Ben showed this video at the COMBO Songwriters Showcase in November at the Walnut Room. It was an awesome video, done in black & white with the wonderful vocal styling of Robert Johnson, a Denver native!