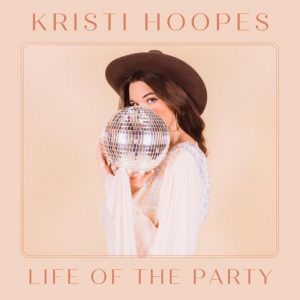 Former Team Blake [Shelton] member of The Voice and 70s-inspired songstress Kristi Hoopes has released her debut EP, Life of the Party. Produced by Grammy winner Paul Worley (The Chicks, Lady A) and seasoned session guitarist Biff Watson (Don Williams, Crystal Gayle), the record is unapologetically country yet unafraid to dabble in the unconventional. Life of the Party features Hoopes as a writer on all six tracks with collaborative appearances by Kirsti Manna ("Austin" – Blake Shelton) and Lynn Wilbanks ("A Bridge Across" – Dolly Parton feat. Mark O'Connor and the Nashville Symphony).
From swampy, firebrand southern rock to delicate singer-songwriter ballads (and even a bit of four-on-the-floor disco), Life of the Party offers listeners a wide range of soundscapes all soaked in nostalgia.
"I think that's one of the many reasons why country music is loved so much," says Hoopes. "The songs we cherish the most are entwined with the memories they conjure up. Like nostalgia, the songs on this record are bittersweet. My hope is that listeners can find whoever they are at this moment in them. Maybe you're the one leaving your hometown behind, falling in love – or
lamenting it – for the first time. All those life moments we experience, the ups and downs, are here."
Hoopes turned the chairs of Blake Shelton, Adam Levine, and Jennifer Hudson before 11.9 million viewers on Season 13 of NBC's The Voice with her powerful rendition of Trisha Yearwood's, "Heaven, Heartache, and the Power of Love" and took her place as the final member of Team Blake. Her new music was fully funded by fans via Indiegogo.
Life of the Party is now available on all major streaming platforms and digital retailers.
For more information, visit http://www.KristiHoopes.com.