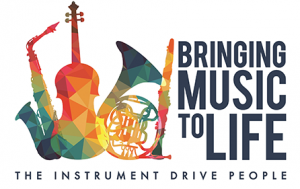 By Staff at Littleton Independent | The annual Bringing Music to Life Instrument Drive kicks off March 2, continuing its mission to bring the gift of music to Colorado students in underfunded music programs.
This is the 10th year for the instrument drive, which has impacted the lives of 15,000 children in hundreds of elementary, middle and high schools in Colorado. To date, more than 5,000 instruments have been awarded with a value exceeding $2 million.
Coloradans are asked to bring their gently used band or orchestra instruments to any of 17 donation from March 2-15. Instrument donations may be tax-deductible. Drop-off locations can be found at www.bringmusic.org.
Donated instrument are then repaired by technicians at the Colorado Institute of Musical Instrument Technology and Boomer Music Company in Fort Collins, and instruments are donated to music school programs before the start of the 2020-2021 school year.
"Our band program has been able to continuously improve due to the generosity of Bringing Music to Life," Ouray School music teacher Michael Scott said in a news release. "We currently are able to offer band to all students in grades 5 and 6, while our high school program also continues to improve."
At Denver's North High School, music teacher Katy Lushman has been able to start a Modern Band program and says her students love it.
"This class has given me access to instruments that I've never had access to before. I really enjoy being able to play electric guitar and bass. It's a new experience," one of Lushman's students said.
Another said, "It's helped me discover my love for music and for playing."
At Ranum Middle School in Westminster, a student's new instrument "has helped me become more creative … It has opened a door to music."
Bringing Music to Life was founded in 2013 by executive director Steve Blatt as a project of the Colorado Nonprofit Development Center to continue the instrument drives he had established and managed at Colorado Public Radio.
"Study after study shows the positive impact that learning music has on children," Blatt said in the news release. "Their listening skills improve, as well as creative thinking, self-discipline and self-esteem. Students learn the value of persevering and how to work with others toward a common goal. We're excited about reaching even more children, schools, and communities this year."
Those who don't have an instrument to donate can help by contributing to the repair fund. Money donations go to repairing and refurbishing the instruments, ensuring that they're in excellent condition when awarded to students.
"Instrument repairs are the single greatest expense of the program, with the average repair costing us about $155," Blatt said in the release. "CIOMIT is once again doing all refurbishing and reconditioning at a significant discount. Again this year, we're pleased that Boomer Music Company is joining the effort to repair donated instruments."
Title One schools with a majority of students receiving free or reduced cost lunches are encouraged to apply for instruments now through March 31 using the online application form. Bringing Music to Life will match qualifying schools with donated instruments.
For more information about Bringing Music to Life, visit http://www.bringmusic.org.
https://littletonindependent.net/stories/effort-brings-music-to-life-for-students
Thanks so much to COMBO Board Member Sheena Morgan for passing this info along!