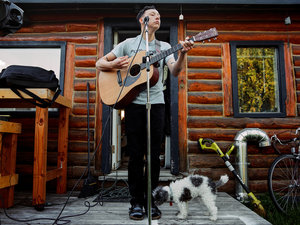 KUDOS: Quinn Christopherson Wins NPR Music 2019 Tiny Desk Contest
Today [May 19th] on Morning Edition, NPR Music's Bob Boilen announced the winner of the 2019 Tiny Desk Contest: Quinn Christopherson from Anchorage, Alaska. He will perform at the Tiny Desk at NPR HQ on May 28th and go on the Tiny Desk Contest On The Road tour, supported by Blue Microphones, along with local artists who entered the Contest.
"Quinn Christopherson is a vulnerable performer with a powerful voice and a mighty message," said Boilen. "His song 'Erase Me' comes from his unique perspective. It is thoughtful and heartfelt. Quinn is truly a one-of-a-kind talent and I can't wait to hear more from him."
Christopherson's entry video, filmed at the Anchorage Museum in front of a painting of Mt. Denali, was chosen out of over 6000 entries from across the country. It captivated the Tiny Desk Contest judging panel — including Boilen, Rodney Carmichael (NPR Music), Abbie Gobeli (KEXP), Raul Campos (KCRW) and Tiny Desk alumni Lucy Dacus, Jason Isbell and Ledisi — from start to finish. Watch the entry and listen to his performance of "Erase Me" — Christopherson's second entry to the Contest — at http://www.NPR.org/music.
A songwriter with Athabaskan and Inupiaq heritage who was born and raised in Anchorage, Christopherson addresses his childhood and his role as a transgender individual navigating Alaska's social landscape through his music. "Quinn has a unique perspective that needs to be heard, and he's a gifted writer and captivating performer," said Isbell. "I admire the honesty in his song and his identity."
Link to this release with the video:https://www.npr.org/about-npr/723739840/quinn-christopherson-wins-npr-music-2019-tiny-desk-contest
TINY DESK CONTEST TOUR
The Tiny Desk Contest On The Road tour, in partnership with NPR Member stations and supported by Blue Microphones, will also feature local artists who entered the Tiny Desk Contest. The event series includes stops in New York (WFUV), Seattle (KEXP), Austin (KUTX) and Los Angeles (KCRW).
Tickets for the tour go on sale Friday, May 24th, at noon EDT on http://www.nprpresents.org.
June 11th- Seattle, Washington with KEXP – KEXP Gathering Space
June 13th- Los Angeles, California with KCRW – Lodge Room
June 19th- Austin, Texas with KUTX – 3TenACL Live
June 25th- New York, New York with WFUV – Baby's All Right
About NPR Music
For more than a decade, NPR Music's robust music journalism and award-winning original video programming has delighted millions of music fans from all genres. NPR Music collaborates with NPR's news magazines, public radio Member stations and the passionate listener community to celebrate exceptional music and discover emerging artists. Visit NPRMusic.org to find the complete Tiny Desk concert series, music feature stories, extensive archives of performances, interviews and music reviews. Connect with NPR Music on Facebook, Twitter and Instagram.
Press Contact:
Anais Laurent, NPR Media Relations
202-513-2300 / mediarelations@npr.org