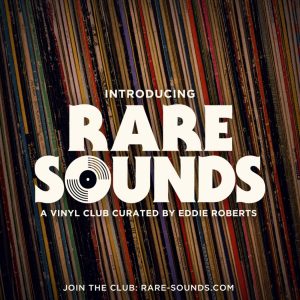 Hello Cervantes' family! We're writing to personally invite you to a new vinyl club, curated by Eddie Roberts of The New Mastersounds: http://www.rare-sounds.com.
The first box is about to ship. As a loyal fan of Cervantes' and live music we'd like to offer you a $30 discount off of your first box 'The Essentials' before it ships.
Rare Sounds will deliver 3 vinyl records, 4 times a year. And don't worry, you'll have the option to skip a box, or switch out a record if you already have one!
To learn more or join the club: http://www.bit.ly/Join_RareSounds
A note from Eddie: "I started Rare Sounds Vinyl Club to tell the story of the Funk & Soul scene that has been my life since the 90's. I realized that most of the records I consider to be influential milestones are rare and very hard to find on vinyl, and some were never pressed at all. This prompted me to contact all my friends from the bands and labels that I've known since the beginning with an idea to re-press their early records exclusively for a collectors club of music connoisseurs. Everyone I spoke to loved the idea and we set about commissioning the vinyl re-press of all these records."
Plus our exclusive 'Tasting Notes & Anecdotes' booklet; a Rare Sounds slip mat; a Member Card for future discounts and promos, and more!
As a fan of funk, soul, jazz, boogaloo, funky jams, all the good stuff, join me and my musical compadres as we explore the stories and connections between the bands and these timeless records that made the scene what it is today."
~ Eddie Roberts
The Funk & Soul Revival: A 'Rare Sounds' Vinyl Club.
Cervantes' Masterpiece
2637 Welton St
Denver, CO 80205-2911