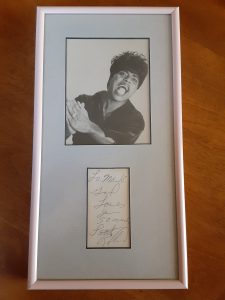 From Mark Bliesener: I had the pleasure of meeting Little Richard twice. Attached please find a video clip about that first meeting with illustrations by Greg Carr and video by Mike Schrader.
Also attached is a song "Little Richard Told Me," which I wrote/recorded about the second. Wonderful/fortunate memories.
I also want to share a photo of my Little Richard autograph! One of my most prized possessions!
All the best,
Mark Bliesener
https://moxiecca.app.box.com/s/1jxphgbttafozyzlpviu1552pkax6c8u
https://drive.google.com/file/d/13CXjJ9Py0gegiWEwPw2ayHqA1OQt9dZ8/view?usp=drive_web
About Mark Blieserner:
Mark Bliesener is Director of Denver based BandGuru Management and Consulting. He has years of daily experience in the music business as a performer (1966-1976), music critic (1976-1978), publicist (1978-1988) and personal manager since 1989. Bliesener has received 16 Gold and Platinum record awards from artists whose careers he has managed including; Alan Parsons, Lyle Lovett, Big Head Todd and the Monsters and the Nitty Gritty Dirt Band.
He coined the band name "Dead Kennedys," is the author of The Complete Idiot's Guide to Starting a Band and the organizer of Denver's annual Neal Cassady Birthday Bash.
In 2019 Bob Dillon Records released "Jurassic Mark," a full length CD of Bliesener's original songs . Recently several of his previous recordings have been included on successful CD compilations including; Hyperpycnal's "Rocky Mountain Low," Rock By the Sea's "Christmas Comp" and UK based Soul Jazz Records' "Punk 45," where he is featured alongside Joe Strummer's 101ers, the Count Bishops and Cabaret Voltaire.