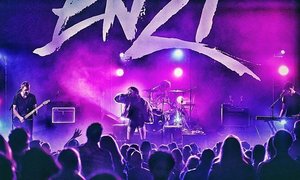 NEWS: Enzi Says 'Thank You' for Helping Her to Win KTCL's Contest
I owe a big THANK YOU to all of you who voted for "I'm Sorry That I" in KTCL's 93.3 Hometown for the Holidays! YOU got that song to earn us the GRAND PRIZE!
So many of you have been asking when the song will be released on Spotify/iTunes… STAY TUNED… it's coming, I promise!
Next show will be at Arapahoe Basin on Saturday, March 23rd-FREE!
An endless amount of gratitude from my heart to you!!
Stay kind,
ENZI
"ENZI has created a powerful, independent image for herself. The release of this song landed her a spot on KTCL Channel 93.3s Locals Only Line Up for Big Gig. This song is youthful but aggressive and everything you didn't know you needed. Go stream Flipside on your platform now!" ~ Local Focus Magazine, Oct 29, 2018