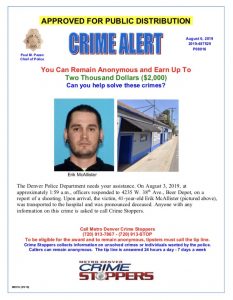 By Emily Wenger | The Denver Police Department is asking for the public's help in finding more information in the shooting death of a man [August 3rd] on 38th Avenue.
Erik McAllister, 41, was found shot around 1:59 a.m. Saturday in the 4200 block of West 38th Avenue, according to a news release from the Denver Police Department.
He was transported to the hospital, where he was pronounced dead from his injuries.
> > > > > > > > >
If you have information about the incident, call Metro Denver Crime Stoppers at any time at (720) 913-7867. Callers can remain anonymous, and could be eligible for a reward.
https://kdvr.com/2019/08/06/police-seeking-help-finding-the-person-who-killed-a-man-on-38th-avenue/
[Editor's note: Mr. McAllister was a musician in a Denver metal band at one time. We were unable to get any more information than that. Please keep your ears open and let the police know if you hear anything that may help to find his killer.]
# # # # #
Man Killed in Northwest Denver Shooting Identified
By Eric Ruble, KDVR, Denver — The man killed in a shooting in northwest Denver on Saturday has been identified.
The Denver Office of the Medical Examiner said Monday that Erik McAllister, 41, was pronounced dead at Denver Health Medical Center early Saturday morning.
The shooting occurred in the 4300 block of West 38th Avenue in the Berkeley neighborhood. The Denver Police Department first tweeted about the incident about 1:30 a.m. Saturday.
DPD has not yet released information about a suspect.
https://kdvr.com/2019/08/05/man-killed-in-northwest-denver-shooting-identified/
# # # # #
Erik Anthoney McAllister, age 41, left this world on Saturday, August 3rd.
Erik will be lovingly remembered by his wife of 16 years, Tiffaney and his children Fabian, Mickey, and Dean. Erik will also be fondly remembered by his mother Sandra, stepfather Harvey, and his siblings Aaron, Isaac, Angelo, Victor, and Kristina. Erik was preceded in death by his father James McAllister and brother David Rodriguez. He will be missed by his Grandparents Richard and Carol Griego, his aunts, uncles, friends and family.
https://www.newcomerdenver.com/Obituary/174819/Erik-McAllister/Denver-CO
# # # # #
Family Asks Public To Help Solve Father's Murder
By Shawn Chitnis
August 6, 2019 at 8:27 pm
Filed Under: Denver News, Erik McAllister
https://denver.cbslocal.com/2019/08/06/erik-mcallister-denver-murder/