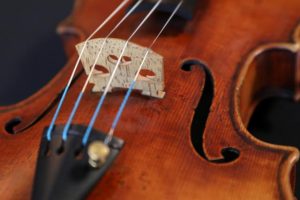 The struggle for United Airlines to get good press continues, this time, a violinist accused the airline security of wrestling her instrument away from her.
Orchestral violinist Yennifer Correia was on her way to perform with the Missouri Symphony Orchestra when she was stopped at George Bush Intercontinental Airport in Houston, Texas Sunday. Her Houston lawyer Philip A. MacNaughton posted a letter on her Facebook page on the same day describing the events.
"Yennifer Correia…was in the process of boarding her flight from Houston to St Louis when a United supervisor refused to permit her to carry her violin onto the plane," MacNaughton wrote.
"Ms Correia explained that it was necessary for the instrument to remain with her and asked what her options would be. The United supervisor told Ms. Correia there were 'no options' and became belligerent when Ms. Correia asked for her name."
"Without provocation, the supervisor for the Chicago-based carrier then lunged for Ms. Correia's case and, incredibly, tried to wrestle it away from the musician. Ms. Correia screamed for help. The United supervisor threatened to 'call security' and Ms. Correia responded, 'Please do!' at which point the United supervisor ran away."
This year has been rough for United. The scandals seemed to come one after another during April, and the negative press has taken a toll on the company's stock market.
The first major scandal of the year came when David Dao refused to give up his seat on a flight in Chicago he'd already boarded, so the crew could make room for airline staff earlier in the year in April. He was dragged out by security officers, which was caught on tape which went viral on the internet.
The fallout from that event was swift with heavy criticism placed on the CEO of United and the practices of United's policy for removing passengers when planes are overbooked.
"I continue to be disturbed by what happened on this flight," said CEO Oscar Munoz in a statement at the time, "and I deeply apologize to the customer forcibly removed and to all the customers aboard. No one should ever be mistreated this way."
Only a few days later, United found itself in another scandal, when, a few days after the forced removal of Dao, another passenger on his way from Houston to Calgary was allegedly stung by a scorpion.
The poisonous creature fell from an overhead bin and landed on Richard Bell's hair as he was eating lunch Sunday in his business class seat, according to his wife Linda.
"My husband felt something in his hair. He grabbed it out of his hair and it fell onto his dinner table. As he was grabbing it by the tail it stung him," she told CNN at the time.
The repercussions were initially damning to the airline, with stocks falling low in mid April at the height of the scandal. However, by May, the airline had recovered, and was at an all-time high. It's unclear yet how much the latest scandal will affect the company.
Comment from Betsy Casden, Adjunct Professor at Roger Williams University
This is a training deficiency, as the airlines all have special rules allowing musical instruments of this size as cabin baggage. (If they're too large, like a cello, you have to buy a ticket for them.) YouTube "United Breaks Guitars" for what happens if you're forced to check an instrument into the cargo hold.
By Steven Klett
https://www.yahoo.com/news/m/db1df26e-4b19-3f63-be5b-b2f3c16b2866/ss_united-airlines-crew-wrestled.html
# # #
Previous Incident: 'Musician's worst nightmare': Vintage Gibson Guitar Mangled by Airline Baggage Handlers
It was a musician's worst nightmare.
At least that's how Dave Schneider, guitarist and singer for Hanukkah-themed rock band The LeeVees, described it when his guitar—a 1965 Gibson ES-335—got jammed in an elevator by baggage handlers at a Detroit airport.
Schneider was traveling with fellow LeeVees guitarist Adam Gardner from Portland, Maine, to St. Petersburg, Fla., for a gig last month at a conservative temple when their flight was diverted to Rochester, N.Y., due to bad weather, causing them to miss their connection in Philadelphia, Pa. They then drove to Buffalo, N.Y., to hop on a plane destined for Detroit, Mich., where they planned to make a connecting flight to Tampa, Fla.
While boarding in Buffalo, Schneider says he asked Delta staffers not to check in the vintage guitar — which he estimates is worth about $10,000—and allow him to carry it on the plane and place it in an available space, as he did on the flight from Portland.
"I've always carried it on," Schneider, who also tours as the lead singer of the hockey-themed rock group the Zambonis, told Yahoo News. "Never been a problem before."
Schneider says he even showed them a link to a story about Congress passing the FAA Modernization and Reform Act of 2012 that made it easier for musicians to fly with their instruments—allowing them to purchase an extra seat on the plane for their fragile instruments.
But he was denied.
When their plane landed in Detroit, Schneider says, "I had a bad feeling." He whipped out his iPhone and started filming.
As the pair of rockers waited at the gate for their checked guitars, Schneider asked a member of the flight crew to check on his prized ax as it was being removed from the plane. "He did and said it would be fine," Schneider recalled. But as the musicians waited for the luggage to appear, they could hear a screeching noise coming from the elevator.
"It was this crazy sound," Schneider said. "Metal on metal."
The case carrying Schneider's semi-hollow-body guitar was lodged between the mobile service elevator and a rail on the loading dock, shaking the elevator door. The case even bent a steel beam.
The guitar itself was pinned between two beams and took workers an hour to retrieve it. It sustained damage to the bridge, neck and tail that would cost an estimated $1,980. But so far, Schneider says, Delta has given him the "runaround."
He says the airline offered to cut him a check for $1,000 in Tampa, but Schneider refused it because he didn't know how much the repairs would cost. The online claim forms he filled out after the guitar carnage were blank when Schneider checked on them, and two emails he sent to Delta chief executive Richard Anderson were not returned.
Delta told Yahoo News that the airline "will be reaching out to the customer directly to discuss how we can make this right."
"This instance is certainly not indicative of the high regard we hold for our customers' property when they travel with us, and for that, we apologize," Delta spokesman Morgan Durrant said in an emailed statement. "We look forward to making a direct and sincere apology to the customer as we work with him to rectify what happened."
This is not the first time touring musicians have clashed with baggage handlers.
In 2009, Dave Carroll, a Canadian singer-songwriter, turned his experience with United Airlines into a music video ("United Breaks Guitars") that went viral and landed him a book deal.
Schneider, though, says he isn't looking for that kind of fame.
"I'm not a greedy dude," he said. "I'm just looking for $1,980."
By Dylan Stableford, Yahoo! News | The Sideshow
http://news.yahoo.com/blogs/sideshow/vintage-gibson-guitar-delta-baggage-leevees-214634001.html
[Editor's note: We've run the above article when it happened a couple of years ago and several times since. Sad that we have to keep repeating this atrocious behavior on the part of the airlines.]