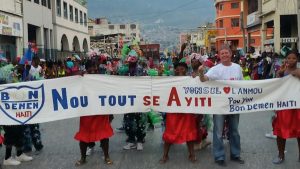 By COMBO member Greg Cronin: I know times are tough and I hate asking for donations, but I am asking those of you who have some extra to share, to do so for our work in Haiti. Even though I was afraid of carrying the coronavirus to Haiti, I made the difficult decision to travel there. I knew the odds were astronomically low that I was infected when I left, and took every available precaution while I flew, but viruses are sneaky little bastards. I'm happy to report that I am without symptoms 7 days into self-quarantine.
As soon as my quarantine is over, I will start working to protect my Haitian family and friends from COVID-19. Nearly a decade ago we did this for cholera, and now the same artists are going to do it for coronavirus.
Please share this campaign to fight coronavirus in Haiti.
Yon Sel Lanmou ("One Love" in Kreyol) and Seneko Kakona ("Many Blessings" in Taino),
Greg
click to give: https://www.paypal.com/cgi-bin/webscreen
Yon Sel Lanmou 501(c)3 is asking for tax-deductible donations to help Haiti face the COVID-19 pandemic. You can use the "donate" button below that will take you to PayPal. Checks can be mailed to Yon Sel Lanmou, PO Box 487, Sedalia, CO 80135, but would not be cashed for several months as we are all in Haiti. We realize that many people are facing hardship and uncertainty, and must take care of yourselves and loved-ones. However, if you have some extra to share, please donate here, where you know that 100% of your contribution will go directly to the fight against COVID-19. ZERO percent will go to administrative and other overhead costs. When the president of Yon Sel Lanmou Greg Cronin arrived in Haiti, there were only two confirmed cases in the country. That number has grown slowly to 6 as this is typed. Greg remains in self-quarantine, being without symptoms 7 days after flying. His team is ready to tackle the following tasks as soon as his quarantine period is completed, and keep the number of people infected with the coronavirus low in Haiti.
1. Public Service Announcement: Teaching large groups of people about COVID-19 while maintaining social distancing is possible via a PSA. Yon Sel Lanmou will team with Haitian artists to create a music video PSA about avoiding COVID-19 in Haitian Kreyol. The world experienced the harm that misinformation or lack of information can cause in the midst of a pandemic. Our PSA will emphasize the importance of simple behavioral changes that can prevent COVID-19 such as hand washing, self-quarantine, social isolation, covering coughs, and sterilizing surfaces. The PSA will inform Haitians of symptoms to look for, how to safely assist neighbors, contact information for medical assistance, and link them to information sites. Almost a decade ago, Haiti experienced a cholera epidemic, which was also a novel disease in the country at the time. We created a music video PSA back then that saved lives that you can view here (http://goo.gl/mdNZwJ). The artists who made "Go Away Cholera" have already committed to tell COVID-19 to go away.
2. Hand-washing Stations: The vast majority of households do not have access to running water, which creates a challenge for frequent hand washing. Yon Sel Lanmou has already purchased a 50 gallon drum and 30 bars of soap to build a hand-washing station at our location in Vilaj Mozayik. The hand washing stations will have fact-sheets that provide information about avoiding and dealing with COVID-19. We want to offer similar hand-washing stations to neighboring community centers, churches, and schools with supplies that your contributions will purchase.
3. Masks and hand-sanitizer: While we are hoping for the best, we want to prepare for the worst. For people who catch COVID-19, we want to provide them with masks and sanitizer to prevent the spread of the virus. If medical masks and sanitizer are unavailable, Yon Sel Lanmou will manufacture them according to best practices described by the WHO.
Yon Sel Lanmou is a small, dedicated organization that has a small budget that we are very frugal with. We get a big bang for the buck compared to large non-profits. We feel the three activities listed above will greatly help Haiti deal with the coronavirus that arrived March 18, 2020. If you have ideas or suggestions about how we can effectively fight the coronavirus, please share them at YonSelLanmou@gmail.com. We thank you for your support, positivity, compassion, and contributions. Please share this campaign with those who are interested in making the world a better place for all.