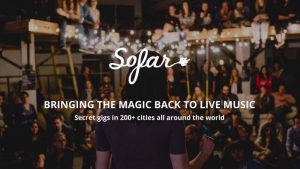 By Jem Aswad, Variety | Sofar Sounds — a company that has made a name and a business for itself by staging "secret gigs and intimate concerts" featuring emerging artists for an invited, engaged audience — has reached a $460,000 settlement with the New York Department of Labor after an article revealed its extensive use of unpaid volunteer workers. The $460,357.50 payment will be distributed to volunteers — known as "ambassadors" — who worked at Sofar shows.
In an announcement made today, the DOL wrote: "The settlement came in the wake of a Department of Labor investigation which revealed that 654 SoFar Sounds 'ambassadors' were never compensated for work performed at SoFar events between 2016 and 2019. … When the Department of Labor opened its investigation, SoFar cooperated fully and immediately changed its business model. SoFar now staffs all its events with paid employees. The company also agreed to immediately compensate ambassadors who provided any unpaid work."
Sofar announced in September that it has embarked upon a long-term program to hire part-time crews to work with its ambassadors on shows. These will be "paid, part-time event staff in all owned, operated and ticketed markets," CEO Jim Lucchese told Variety. "Sofar Crew will work with and be directed by Sofar full-time employees in those markets." Lucchese said the program was already in development when he took joined Sofar last February.
In today's announcement, New York State Department of Labor Commissioner Roberta Reardon said, "Worker protection is at the forefront of our mission at the Department of Labor and that includes making sure New Yorkers receive the wages they are entitled to. In this case, SoFar made our job much easier because they wanted to be a partner and a good corporate citizen.
"When a for-profit business enlists the services of an individual, that individual is an employee, and must be paid for the work they are doing," she continued. "My Department closely monitors compliance with New York State Labor Law and we recognize that sometimes businesses make mistakes. In this case, SoFar Sounds fully cooperated with the investigation and corrected that mistake. They have taken swift steps to change their business practices, and they are fully compensating their employees. I consider this a win for everybody! We are thrilled to share that each employee will receive a check from NYSDOL and will be compensated appropriately for the work they performed."
A spokesperson for Sofar told Variety, "Today's agreement with the New York State Department of Labor stipulates no admission of guilt or wrongdoing and confirms our operating model is fully compliant with New York state law. We thank them for working collaboratively with us in New York, Sofar's biggest U.S. market. We are excited about resolving these issues and moving forward in 2020, with a continued focus on connecting local and independent musicians with passionate music fans."
In a blog post last month, Lucchese also addressed another frequent criticism of the well-funded company: That it pays artists only $100 per performance. While short on details, he promised a "change in artist compensation for larger shows."
Read the full article here:
https://variety.com/2020/music/news/sofar-sounds-460000-settlement-department-of-labor-exclusive-1203454963/
[Thank you to Alex Teitz,
http://www.femmusic.com
, for contributing this article.]