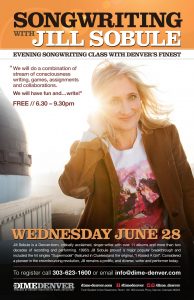 Denver-born singer/songwriter Jill Sobule will be hosting a free songwriting workshop at DIME Denver (Tivoli Student Center, 900 Auraria Pkwy, Suite 140) on Wednesday, June 28th from 6:30 – 9:30 p.m. The event is open to all, and attendees will learn songwriting tips, network with other local songwriters, and get a taste of DIME Denver.
Jill Sobule is a Denver-born, Los Angeles based singer-writer in the smart and witty tradition of Randy Newman and Warren Zevon. Over 11 albums and more than two decades of recording and performing, Jill has mused, with great compassion, empathy, wit and considerable charm on a wide range of subjects including the death penalty, depression, anorexia, shoplifting, Alzheimer's disease, coming of age, intolerance, and the Christian right. Jill has also performed with artists ranging from Neil Young, Billy Bragg, Steve Earle, Cyndi Lauper, Tom Morello, to Warren Zevon and John Doe, and as well as inducting Neil Diamond into the Songwriter's Hall of Fame. Jill is best known for the 1995 single "I Kissed a Girl", and "Supermodel" from the soundtrack of the 1995 film Clueless.
Jill says, "Whenever I try to write a song, I can't. I fear the blank page – what do I write about? Where do I begin? Have I written it before? Will it suck? So I have to trick myself. We will do a combination of stream of consciousness writing, games, assignments and collaborations. We will have fun and… write!"
Stephanie@bennytarantini.com
* * * * *
COMBO's FEATURED SONGS FOR JUNE
Each month COMBO features songs from mostly Colorado Songwriters on its website. These songs are gleaned by COMBO's Board Member and Secretary Mark King from many sources including the internet but mostly from entries into COMBO's annual Songwriting Contest.
This month's songs include:
● A Billion to One – Sharon Glassman
● Sadie May – Brent Loveday
● The Restless Ones – Evan Holm
● Transient – Granny Tweed
● Wash It All Away – Buteo Buteo
Mark deserves a lot of credit for helping out unsigned songwriters by spending hours listening to songs, uploading them, and featuring them. If you have a song that you would like to be featured on COMBO's website, send him an MP3 to Mark@coloradomusic.org, along with a little information on the song. And if you haven't entered it into our Songwriting Contest, please do so. Information under "Songwriters' Corner" on the COMBO website.