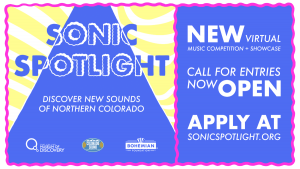 Calling all Northern Colorado musicians age 22 and under! We want to share a fresh new opportunity from the folks at Fort Collins Museum of Discovery, The Colorado Sound, and Bohemian Foundation.
Call for entries opens September 1, 2020 for the inaugural Sonic Spotlight, a brand-new virtual music showcase and competition.
Sonic Spotlight seeks fresh sounds from any genre; selected artists and bands will get a chance to work with industry experts, connect with creative peers, receive radio airplay, create a professional music video, win prizes, and level up their music.
There is no fee to apply or to participate in this program.
This fall, Sonic Spotlight will present two virtual showcases featuring some of the region's most talented emerging musicians. A panel of music industry veterans will be present throughout the program and will determine which artists advance, and ultimately which finalist is named winner of Sonic Spotlight 2020!
Apply for Sonic Spotlight 2020:
https://bohemianfoundation.formstack.com/forms/sonic_spotlight_submission
https://www.sonicspotlight.org/
.
[Thank you to Alex Teitz, http://www.femmusic.com, for contributing this article.]